Digestive Care Center has a new pediatric division dedicated to treating gastrointestinal disorders in children.  We realize that children have gastrointestinal diseases that are different from adults and require a unique approach.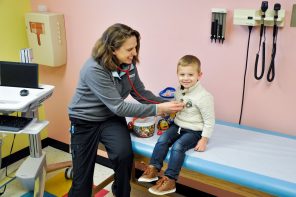 We are pleased to welcomeDr. Rebecca Carey, BoardCertified Pediatric Gastroenterologist to Digestive Care Center. Dr. Carey joined Digestive Care Center in July of 2012. Dr. Carey specializes in the treatment of children and adolescents with a wide range of gastrointestinal, liver and nutritional disorders.  Dr. Carey sees patients in the St. Mary's Center for Children where they have dedicated nurses and staff members to make the pediatric patient and family feel more at ease. Through the Center for Children, she will provide a wide range of services, including upper and lower endoscopy, capsule endoscopy, lactose hydrogen breath testing and impendence probe monitoring.
We are very excited to have Dr. Carey practicing with us and providing these additional services to the tri state region. Thanks to this addition of these services, patients no longer have to travel out of town to receive Pediatric Gastroenterology care.
To make an appointment with our pediatric gastroenterologist, please call 812-485-7425 or toll free 877-589-9858 or fax to 812-485-7678.