Colostridium Defficile Infection (CDI) Study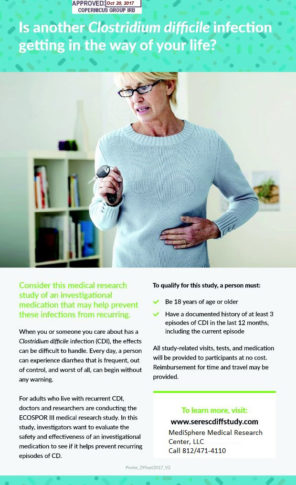 Consider this medical research study of an investigational medication that may help prevent these infections from recurring.
When you or someone you care about has a Clostridium difficile infection (CDI), the effects can be difficult to handle. Every day, a person can experience diarrhea that is frequent, out of control, and worst of all, can begin without any warning.
For adults who live with recurrent CDI, doctors and researchers are conducting the ECOSPOR III medical research study. In this study, investigators want to evaluate the safety and effectiveness of an investigational medication to see if it helps prevent recurring episodes of CD.
To qualify for this study, a person must:
Be 18 years of age or older
Have a documented history of at least 3 episodes of CDI in the last 12 months, including the current episode
All study-related visits, tests, and medication will be provided to participants at no cost. Reimbursement for time and travel may be provided.
To learn more, visit: www.serescdiffstudy.com
MediSphere Medical Research Center, LLC
Call 812-471-4110
---
Diabetic Gastroparesis Study
Are you diabetic and have symptoms of nausea or vomiting, abdominal pain, bloating, or early fullness after meals?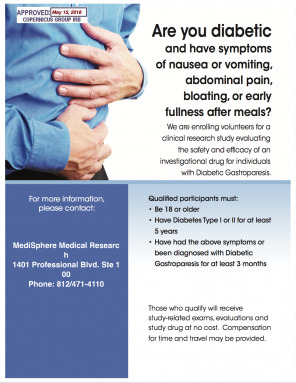 We are enrolling volunteers for a clinical research study evaluating the safety and efficacy of an investigational drug for individuals with Diabetic Gastroparesis.
Who qualifies for this research study?
Men and women age 18 or older.
Who qualifies for this research study?
Must have Diabetes Type I or II for at least 5 years or have had the above symptoms or have been diagnosed with Diabetic Gastroparesis for at least 3 months.
To learn more, visit: medisphereresearch.com
MediSphere Medical Research Center, LLC
Call 812-471-4110