Think you are suffering from Fecal Incontinence?
Click here and fill out the form describing your symptoms and we'll reach out to you as soon as possible.
Better Control for Better Living
18 million Americans suffer from bowel incontinence
Which means you are not alone.
Bowel incontinence (inability to control the bowel) is a common problem. And while this medical condition is more common in adults, especially women — people of any age can struggle with bowel control. Social stigma and embarrassment may cause patients to delay discussing bowel control issues with their doctor, but patients are often surprised to learn their problems are caused by an underlying — and often treatable — medical condition.
Fecal Incontinence Clinic at Digestive Care Center.
The Fecal Incontinence Clinic at Digestive Care Center is here to help alleviate the symptoms of chronic bowel incontinence in patients who have not had success with more conservative treatments — or who may not be candidates for these options. Our dedicated team of experts have developed a proven protocol to successfully diagnose and treat fecal incontinence.
Meet Dr. Pugh.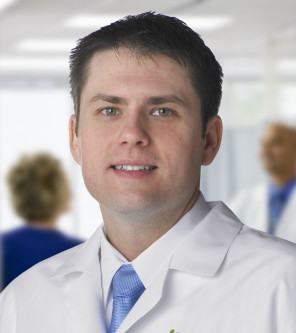 Dr. Aaron Pugh is the Director of our Fecal Incontinence Clinic. A board-certified gastroenterologist, Dr. Pugh specializes in helping patients successfully overcome bowel incontinence and improve their quality of life through focused expertise and advanced treatment options — delivered by the multidisciplinary team of experts at Digestive Care Center.
Why Digestive Care Center?
Digestive Care Center offers a comprehensive approach to the treatment of fecal incontinence through the focused expertise and combined experience of our physical therapists, gastroenterologists and nurse practitioners. This collaborative approach allows us to deliver advanced options to our patients, which include sacral nerve stimulation with InterStim, non-surgical gel injections (Solesta), and behavioral therapy for biofeedback.
Treating Fecal Incontinence
Better treatment of fecal incontinence comes from a better understanding of the three different types:
Urge Incontinence: A patient feels the urge to have a bowel movement but is unable to make it to the bathroom in time.
Passive Incontinence: This type of incontinence involves the involuntary passage of stool without the patient being aware until after it has occurred.
Rectal Seepage: Similar to passive incontinence, this type of incontinence occurs in lesser amounts.
Your physician will work with you to understand your type of incontinence and determine the best method of treatment, which may include:
Anti-Motility Medications
Muscle Strengthening Exercises
Sacral Nerve Stimulation (InterStim Therapy)
Biofeedback
Non-Surgical Gel Injections (Solesta)
Surgical Treatment, including Muscle Repair
Artificial Anal Sphincter
With the help of our team.
Living with a bowel control problem isn't easy. Besides the embarrassment these problems can cause, their effect on a patient's quality of life can be debilitating. When patients can't find an effective long-term treatment, it's hard to stop worrying about when the next accident might happen. At Digestive Care Center's Fecal Incontinence Clinic, we remain committed to helping patients gain control of their lives by finding solutions that work — solutions that will improve our patients' lives for good.
And For the Better.
Live in control — For the Better.
To schedule an appointment, call 812.477.6103.
You can also click here and fill out the form describing your symptoms and we'll reach out to you as soon as possible.