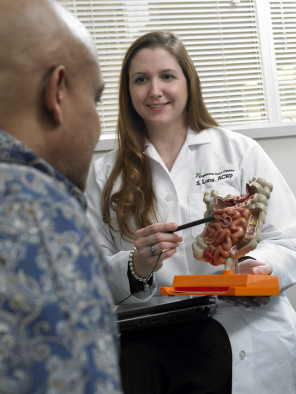 Forty years of digestive health expertise means we've learned a thing or two about what patients need from their healthcare experience. We've applied what we've learned to build the vision for Digestive Care Center.
Digestive disorders can be difficult and even embarrassing for patients to discuss.
Our vision is to build a professional and compassionate atmosphere where patients feel comfortable openly discussing symptoms with their doctors. Our doctors and providers are approachable. Understanding. And here to help. After all, open communication between doctor and patient leads to improved outcomes. And that's the goal we all strive to achieve.
Digestive diseases are most treatable when found early.
Our vision is to compellingly educate our community about the importance of colorectal cancer screening through advanced colonoscopy. We will have an impact on the health of our community through screenings, education and prevention. We will work to ensure that screening colonoscopies are a fundamental element in every person's lifelong health regimen.
Patients are more likely to seek care when it's accessible and convenient.
Our vision is to provide access to advanced digestive health treatment throughout the region — when and where our patients need it most. With offices throughout the Tri-State, a 24-hour resource line and a dedicated urgent care with convenient hours, we are making it easier than ever to access advanced digestive care.
Focused expertise in digestive health has been shown to improve quality and outcomes for patients.
Our vision is to provide an unparalleled level of digestive care expertise in the region through our comprehensive team of board-certified gastroenterologists, nurse practitioners and other digestive care experts — with access to the latest technological advancements and procedures.  The board-certified physicians who make up Digestive Care Center have been trained all over the United States — and this diverse experience allows our physicians quick access to multiple sources of expertise to approach every case with the power of many levels of dedicated experience.
When we break it all down, our vision is really quite simple. To provide better outcomes through the best possible care. To improve the lives of our patients. For The Better.SM