Baked Omelet Muffins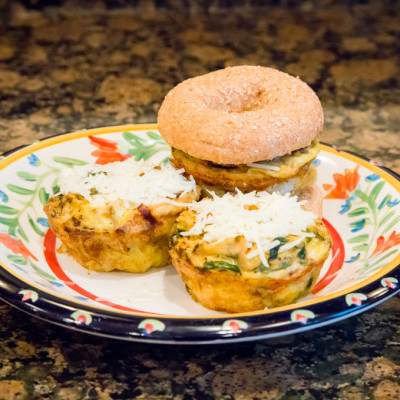 Ingredients
3 whole eggs
6 egg whites
Salt and pepper to taste
1 tsp. oregano
Mix-ins as desired: 2 cups baby spinach, ½ cup chopped mushrooms, ½ cup diced red onion, ¼ cup part skim mozzarella
Directions
Preheat oven to 350. Spray muffin pan with cooking spray. Beat 3 eggs and 6 egg whites in a small bowl and season with salt pepper and 1 tsp. oregano. Chop and prep all mix-ins of your choice. Fill bottoms of muffin pan about 1/3rd of each individual tin with mix-ins. Fill the tins with the eggs. They will puff up a little so leave a tiny bit of space at the top. Slightly stir each mixture and if desired, top with 1 tbsp. cheese. Bake for 18-20 minutes or until eggs are set and lightly golden brown on top.
Tips
Refrigerate covered up to 5 days.
Reheat for 15 seconds in the microwave.
Eat them as they are or try 1 of these between a whole wheat mini bagel or stuff 2 into a whole wheat pita to get more fiber – makes for a great breakfast sandwich!