Black Bean Soup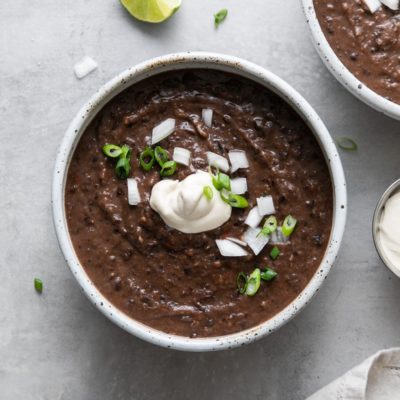 Ingredients
2 Tablespoons vegetable oil

4 garlic cloves

3 cans 15.5 ounce low-sodium black beans, drained and rinsed in cold water

1 teaspoon dried basil

1 teaspoon dried oregano

2 teaspoons chili powder

1 Spanish onion

2 carrots (diced)

2 celery sticks (diced)

1 lime (juiced)

1 cube low sodium chicken bouillon

8 cups water

Plain low-fat water (optional, for topping)
Directions
Mix beans, olive oil, garlic, carrots, onion, celery, basil, chili powder, and oregano. Mix well.

Add water and top with a bouillon cube. Turn the heat down to low and cook about 2 ½  hours, until the beans are very tender and the mixture is uniform in color.

Just before serving, squeeze the juice of ¼ lime on each serving and a tablespoon of yogurt.

Serve right away or cover and refrigerate for up to 5 days.