Broccoli Cheddar Frittata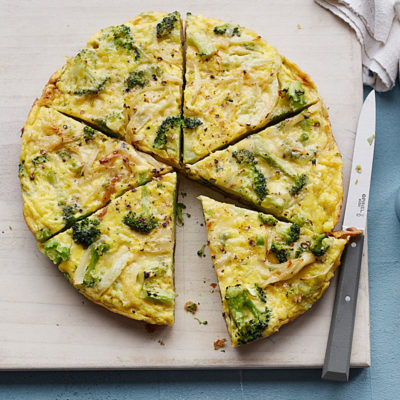 Ingredients
1 Package (10 oz) frozen chopped boccoli

8 eggs

¾ cup shredded reduced-fat cheddar cheese (3 oz)

1 small carrot (diced)

1 Tbs chopped green onion

¼ cup water

¼ cup nonfat or low-fat milk

2 tsp prepared mustard

1 tsp seasoned salt

⅛ tsp pepper

Nonstick cooking spray
Directions
Combine broccoli (and carrot, if desired) and water in a 10-inch nonstick skillet. Cook over medium heat until tender, stirring occasionally to break up broccoli, about 10 minutes; drain well.

Beat eggs, mustard, salt and pepper in large bowl until blended, then add milk, cheese, and green onion. Combine with broccoli mixture. Mix well.

Coat same skillet with cooking spray; heat over medium heat until eggs are almost set, 8 to 10 minutes. If placed in oven, cook for approximately 20 minutes at 350 degrees.
Tips
Watch our tutorial here!
Recipe by Kramer Ahrens