Savory Stuffing Muffins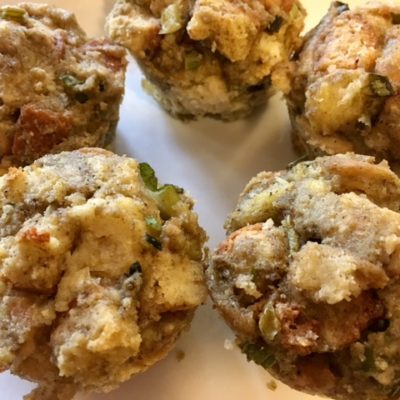 Ingredients
1 gluten free baguette, baked and brought to room temperature, cut in bite size cubes, set aside
5 slices Udi's whole grain bread, baked and brought to room temperature and cut in bite size cubes, set aside (about 7 loosely filled cups of cubed bread total)
1/3 cup minced scallion (green part only)
½ cup chopped celery
2 Tablespoons olive oil
2-3 Tablespoons unsalted butter (1 to use with veggies, 1 to drizzle on top of stuffing and 1 to grease muffin tin!)
2 ½ teaspoons Bell's seasoning
Salt and pepper, to taste
2 eggs, beaten
Directions
Preheat oven to 350 degrees. Grease muffin tin generously with butter.
Sauté veggies with 1 tablespoon of the butter, 2 Tbsp. olive oil and 2 ½ tsp. Bell's seasoning over medium heat in medium skillet for 5 minutes or until veggies fork-tender. Set aside to cool down.
In large bowl, add bread cubes and drizzle 1 cup of water over bread.
Add 2 whisked eggs to bread and stir to blend in.
Carefully add cooked vegetables over bread mixture. Using spoon mix vegetables and bread cubes until resembles stuffing consistency.
Spoon mixture into 6-8 muffin tins to bake.
Melt about 1 tablespoon butter to drizzle evenly on top of stuffing balls (optional).
Add a dash of salt and pepper to top of stuffing ball, if desired.
Bake for about 20 minutes.
Tips
Recipe modified from: http://blog.katescarlata.com/2012/11/14/savory-stuffing-gluten-free-and-fodmap-friendly/