Chickpea Couscous Salad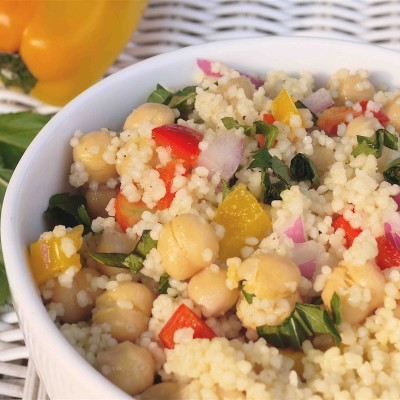 Ingredients
1 tbsp. olive oil
1 1⁄2 cups onion, diced
2 cups chopped kale
2 garlic cloves, minced
1⁄2 tsp. each: cumin, coriander, allspice, paprika
1 1⁄2 cups canned diced tomatoes, low sodium
3 cups canned chickpeas, low sodium
3⁄4 cup water
1 cup couscous
Directions
Heat oil in skillet over medium heat. Add onions and kale, cook 10 minutes until starting to brown. Stir in garlic, spices, tomatoes, chickpeas, and water. Simmer 10-15 minutes. Meanwhile, prepare couscous according to package directions. Top chickpea mixture over 1⁄2 cup couscous and enjoy!
Recipe adapted from Vegetarian Times. Photo from thislittlepiggywenttothefarmersmarket.com
Tips
Throw chickpeas on a salad for a good protein source.
Blend chickpeas with lemon juice and spices to make homemade hummus.
Roasted chickpeas make a filling, nutritious snack.
Substitute chickpeas for ground meat in Italian pasta dishes.