Cranberry and Sweet Potato Wild Rice Pilaf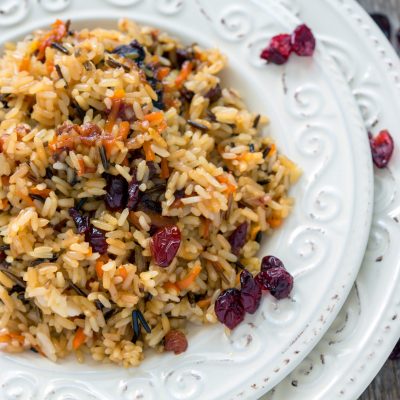 Ingredients
1 can (14 ounces) low-sodium chicken or vegetable broth

1 bay leaf

½ teaspoon dried parsley

¼ teaspoon dried thyme

⅛ teaspoon black pepper

1 cup wild rice/brown rice blend

⅓ cup chopped walnuts

2 tablespoons olive oil

1 cup sweet potato, peeled and diced small

⅓ cup chopped red onion

2 slices turkey bacon, chopped small

2 cloves minced garlic

Packed ⅓ cup dried cranberries
Directions
In a medium saucepan bring the broth to a boil over high heat.

Add the bay leaf, parsley, thyme, and rice.

Reduce the heat to a simmer and cover with a tight-fitting lid.

Cook 45 minutes. Remove from heat without lifting the lid and let it sit.

Heat a frying pan over medium heat and add the walnuts, cook 5 minutes stirring often. Remove and set aside.

Add 2 tablespoons olive oil to the frying pan over medium heat and add the sweet potatoes, onions, turkey bacon and garlic plus a couple dashes each of salt and pepper.

Stir often and turn the heat down slightly if needed. Cook about 10 minutes until the sweet potato is fork tender.

Stir in the cranberries and cook 1 – 2 minutes. Stir in the walnuts.

Fluff up the rice with a fork and remove/discard the bay leaf. Add it to the sweet potato mixture along with the walnuts and combine everything together with a fork to keep it light and fluffy.
Recipe modified from Cinnamon Spice and Everything Nice
Tips
Thanksgiving is a time to enjoy food, family and friends, but for some of us, the holidays are the highest time of food anxiety and insecurity, especially those with specialized diets such as FODMAP, gluten free or food allergies. Stuffing, dinner rolls and other wheat containing sides are Thanksgiving staples, but what if you're following a gluten free diet? Here is an alternative gluten free side that will wow you and your loved ones over.