Fiesta Brown Rice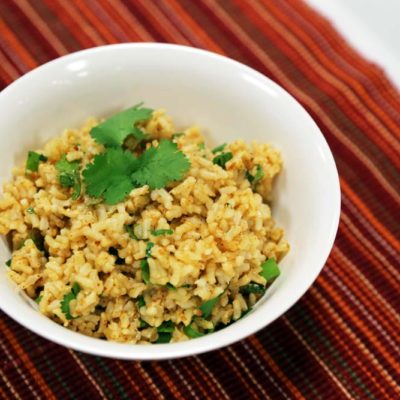 Ingredients
2 cups dry instant brown rice
2 ½ cups water
Juice from 3/4 lime
2 tsp. extra virgin olive oil
1 tbsp. squeeze cilantro or ¼ cup chopped fresh cilantro
2-3 tsp. no salt fiesta seasoning blend
¼ cup chopped scallions
Directions
Cook brown rice according to package directions with more water. Drain excess liquid. Cooking in extra water and drained helps prevent rice from getting too clumpy.
Squeeze juice from ¾ lime over rice. Drizzle 2 tsp. olive oil over rice. Add cilantro and seasoning blend. Toss all ingredients together gently.
Top with chopped scallions, extra fresh cilantro, and lime wedge.