Kale, Dried Cherry, and Feta Salad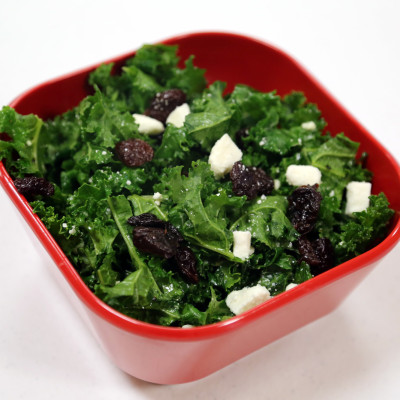 Ingredients
3 Tbsp. extra-virgin olive oil
3 Tbsp. apple cider vinegar
1 Tbsp. honey
2 tsp. Dijon mustard
¼ tsp. black pepper
¼ tsp. kosher salt
2 bunches of kale (6-8 cups, chopped and ribs removed)
½ cup dried cherries
½ cup crumbled feta cheese
Directions
In salad dressing shaker add olive oil, apple cider vinegar, honey, mustard, salt and pepper. Shake well and store in fridge until ready to use.
Rinse kale leaves, remove ribs, and roughly chop. Add in a large bowl. Drizzle with 1 Tbsp. olive oil and massage with hands 1-3 minutes. Massaging the kale helps make the leaves more tender.
Add enough salad dressing to the kale to lightly coat. Top with dried cherries and feta cheese.
To make it a complete meal, add cooked quinoa and chickpeas.