Pumpkin Dark Chocolate Bites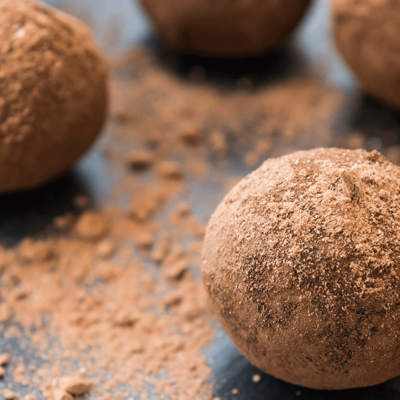 Ingredients
3 cups quick oats
1 cup pitted dates
2 tsp. pure vanilla extract
½ cup + 1 Tbsp. canned pumpkin
½ cup water
½ cup dark chocolate chips
½ cup peanut butter
½ tsp. cinnamon or pumpkin pie spice
Pinch of sea salt (optional)
Directions
In food processor, process quick oats into a flour-like consistency. Transfer to large mixing bowl.
In food processor, add dates and vanilla extract and process until pasty ball starts to form.
To the dates, add the remaining ingredients and process until well mixed and mostly smooth. There still may be some chunks of chocolate chips.
Add pumpkin date mixture to oats in bowl and mix with spatula or spoon.
Refrigerate until slightly firm.
Roll into bites (whatever size you prefer!) and enjoy!
Store in plastic bag or container in the refrigerator up to 2 weeks or freezer up to 2 months.
Recipe created by Chelsey Kuper