Roasted Sweet Potato Salad with Honey-Cumin Vinaigrette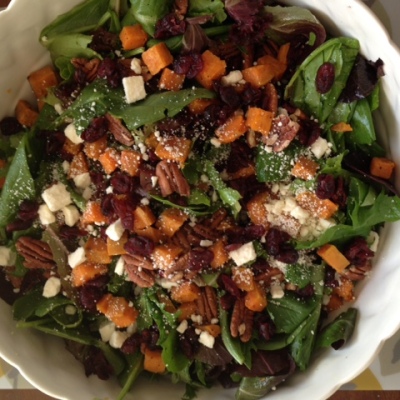 Ingredients
6-8 oz. salad greens (spring mix, spinach, butter lettuce)
½ cup dried cranberries
½ cup crumbled feta cheese (goat cheese would also be wonderful)
Roasted diced sweet potatoes (1 sweet potato for 4 servings of salad)
1 ½ cups Sea-salted roasted pecans
½ cup extra virgin olive oil
3 tbsp. rice vinegar
2 tbsp. lime juice
¼ cup honey
1 tsp. Dijon mustard
1 tsp. cumin
½ tsp. sea salt
½ tsp. freshly ground black pepper
Directions
Honey-cumin Vinaigrette:
Combine the following ingredients in a glass jar and shake well.
Salad:
Divide salad greens between 4 salad plates (or leave in large salad bowl)
Scatter roasted sweet potatoes, dried cranberries, feta cheese and roasted pecans over salad.
Drizzle with honey-cumin vinaigrette. Pass extra vinaigrette at the table.