Simple Spaghetti Squash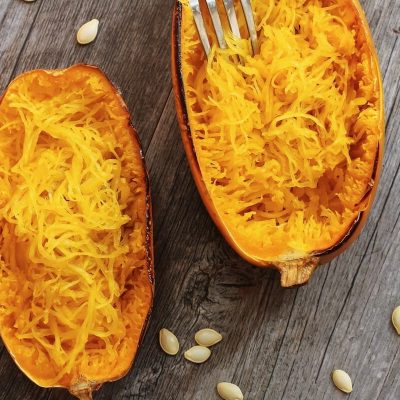 Ingredients
1 medium spaghetti squash

1-2 Tbsp. extra virgin olive oil

¼ cup shredded parmesan

Salt, pepper, and dried oregano to taste
Directions
Preheat oven to 425 degrees F.

Using a large sharpened knife and cutting board, carefully split the spaghetti squash in half, lengthwise (If you are having a hard time splitting it, poke slits with knife and microwave 5 minutes first.) and scrape out the seeds.

Drizzle 2 tsp. olive oil over spaghetti squash and place face down on an aluminum lined baking sheet.

Roast 30-40 minutes until soft.

Remove from the oven and let rest until cool enough to handle. Use a fork to scrape the strands of squash from the inside of the skin into a dish or container.

Drizzle with the rest of the olive oil, salt, pepper, dried oregano, and parmesan. Toss to combine.

Enjoy!