Slow Cooker Chipotle Chicken Tostadas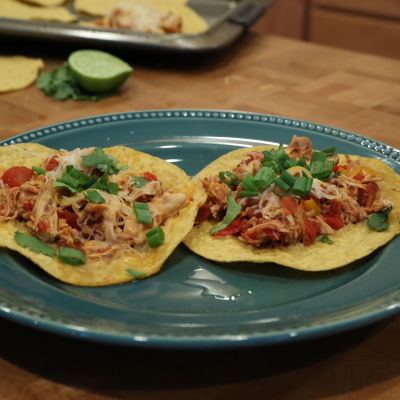 Ingredients
3/4 pound boneless skinless chicken tenders
1 can chopped tomatoes (26 oz.)
2 teaspoons cumin
1 teaspoon chipotle chili pepper
1 yellow bell pepper, diced and de-seeded
1 red bell pepper, diced and de-seeded
8-10 tostada shells
1 cup shredded cheddar cheese
Garnish: chopped cilantro, lime juice, and green part of scallion, diced
Directions
Put chicken, tomatoes, cumin, chipotle chili pepper, and bell peppers in slow cooker on high for about 3 hours or on low for 5-6 hours.
Turn off slow cooker, using fork shred chicken.
Preheat oven to 375 degrees.
Place 8-10 tostada shells on cookie sheet (depending on size of cookie sheet may need 2 of them).
Using slotted spoon, to remove some of the tomato juice, add large spoonful of chicken mixture on top of each tostada shell.
Top with about 1 1/2 tablespoons of shredded cheese per tostada shell.
Bake for about 5 minutes–until cheese is melted.
Garnish with green part of scallion, cilantro, and squeeze of lime.
Tips
Recipe from blog.katescarlata.com