This oatmeal is a great way to start your day! The balance of protein, carbs, and fat and high fiber content will help satisfy you, regulate your blood sugars, and give you energy. There are no added sugars and overall are very low in natural sugars. Only takes a few minutes to make and tastes delicious!
Base ingredients for 1 bowl:
¼ cup dry gluten free old fashioned oats (oats don't need to be gluten free on Low FODMAP diet)
¼ cup dry quinoa flakes (could just use 1/2 cup oats if no quinoa flakes and if not on Low FODMAP diet)
1 egg (or 2 egg whites)
½ cup water (options 2 and 3) or unsweetened vanilla almond milk (option 1)
Option 1 ingredients:
1/3 cup berries (fresh or frozen)
1 Tbsp. chopped walnuts
A few dashes of cinnamon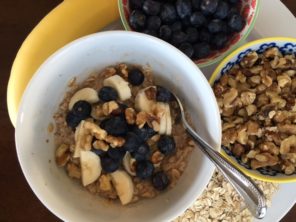 Option 2 ingredients:
½ cup chopped broccoli florets, steamed
2 Tbsp. shredded cheddar cheese (or other hard cheese or nuts)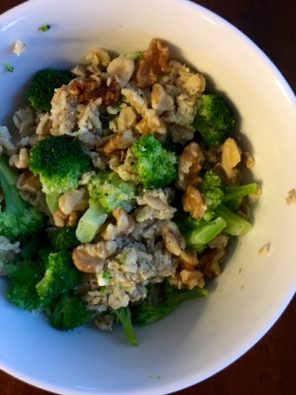 Option 3 ingredients:
2 cups baby spinach, chopped and lightly sautéed or stirred into hot oats to wilt
1 tsp. extra virgin olive oil
A dash of sea salt (optional)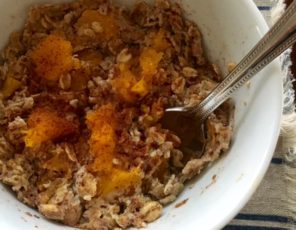 Directions
In microwaveable bowl whisk egg, liquid, oats and quinoa flakes until combined. Microwave for two minutes or until the middle of the oatmeal is set. Remove from microwave and top with additional ingredients from the options above or try your own combination. Enjoy!
Nutrition facts
Option 1: 390 calories, 15gm protein, 14gm fat, 54gm carbs, 6gm fiber, 6gm sugar
Option 2: 380 calories, 18gm protein, 13gm fat, 50 gm carbs, 7gm fiber, 2 gm sugar
Option 3: 380 calories, 14gm protein, 15gm fat, 50 gm carbs, 6gm fiber, 1gm sugar