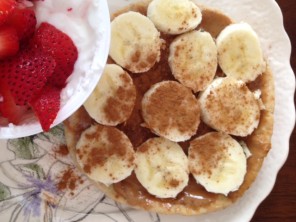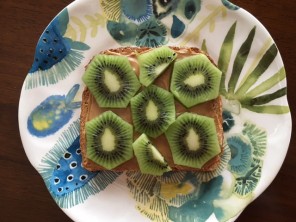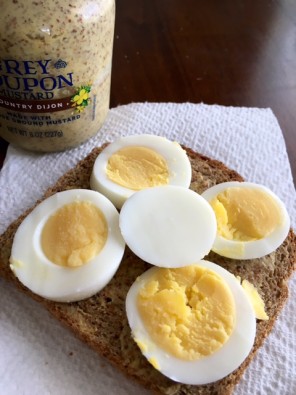 April was IBS (Irritable Bowel Syndrome) awareness month. Let's continue the awareness and support beyond April!
Have you been told to eat 5 to 6 small meals throughout the day? Increase your fiber? Avoid gassy foods? Follow a low FODMAP diet?
This might seem like a time consuming unachievable task, but let me help you!
Below are low FODMAP "mini meals" incorporating a moderate amount of fiber with less gassy foods AND they are simple to prepare!
Combine 1 cup plain or multigrain cheerios with ½ cup blueberries, 2 Tbsp. chopped walnuts, and unsweetened vanilla almond milk in bowl.
Sauté 1 cup chopped veggies (such as zucchini, bell peppers, spinach leaves) in skillet. Set aside. Scramble 1-2 eggs in skillet. Toss veggies and eggs together, season with dried herbs and pepper, and sprinkle with 2 Tbsp. cheddar cheese.
Spread 2 rice cakes each with 1 Tbsp. peanut butter and small banana sliced on top with a sprinkle of cinnamon.
Top your toast (Ex: Udi's whole grain gluten free bread)!

Spread with Dijon mustard, hard-boiled egg, and tomato sliced on top.
Spread with peanut butter and slice kiwi on top.

Mix 1 tuna packet with 1-2 Tbsp. olive oil mayo, ½ cup chopped celery and carrots and enjoy with Blue Diamond nut thin crackers.
Cook 1 small potato (white or sweet) in microwave. Top with ½ cup steamed broccoli, sprinkle salt and pepper, add shredded cheddar cheese, and 2 dollops plain Greek yogurt. Eat the skin for more fiber!
Heat individual brown rice cup in microwave. Top with steamed veggies (squash, zucchini, carrots, bell peppers), 1 scrambled egg, and soy sauce.