Fall Salad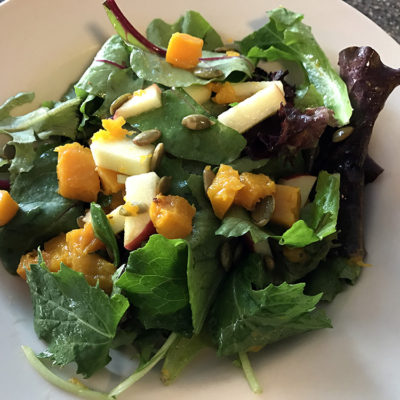 Ingredients
1 small butternut squash, chopped into ½ inch cubes (about 2 cups)
 1 Tbsp. extra virgin olive oil
 Pinch of sea salt
 1 container mixed greens
 1 apple (favorite variety), chopped in small shoestring pieces
 ¼ cup pumpkin seeds (pepitas) (could also use pecans)
For the dressing: (makes more than what is needed for the salad)
¼ cup apple cider vinegar
¼ cup white wine vinegar
½ cup extra virgin olive oil
1 Tbsp. Dijon mustard
2 Tbsp. pure maple syrup
¼ tsp. kosher salt (or less)
¼ tsp. black pepper (or less)
Directions
Preheat oven to 425 degrees F.
Line a baking sheet with aluminum foil. Toss butternut squash with olive oil and salt and spread out onto prepared pan. Roast for 15-20 minutes until tender.
While squash is roasting, prepare salad dressing. Using a salad dressing shaker, add all ingredients and shake well.
If serving for a group, add mixed greens to a large bowl. Top with roasted butternut squash, apples, pumpkin seeds and a drizzle of the dressing. Keep rest of dressing near salad to add extra.