Gluten-free Quinoa Pizza Bites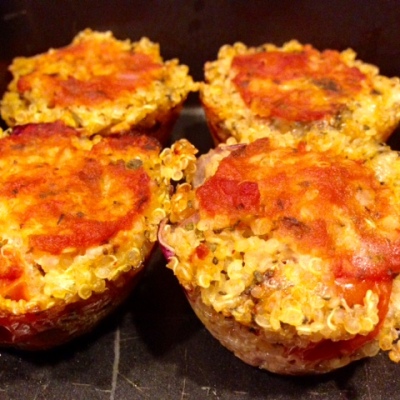 Ingredients
1 cup uncooked quinoa
2 large eggs
1 cup chopped onion
1 cup shredded mozzarella cheese
2 tsp. minced garlic
½ cup fresh basil, chopped (or 2 Tbsp. dried)
½ cup cherry tomatoes, diced
½ tsp. salt
1 tsp. paprika
1 tsp. dried oregano
Pizza sauce for dipping
Directions
Place the rinsed quinoa and 2 cups water in a covered pot. Bring to a boil and simmer 10-15 minutes or until water is absorbed and quinoa is tender.
Preheat oven to 350 degrees.
Mix together all ingredients except pizza sauce, in a medium mixing bowl.
Distribute mixture into a greased mini muffin tin, filling each cup to the top, and press down gently to compact.
Bake for 15-20 minutes. Cool for 10 minutes before removing from pan.
Serve warm with sauce for dipping.