Healthified Chicken Salad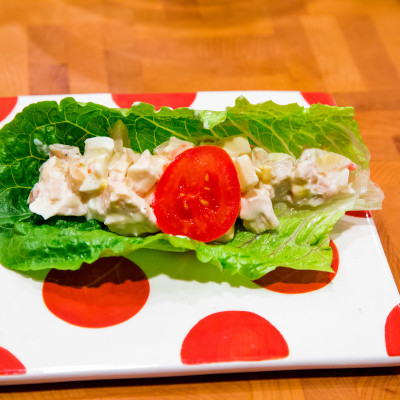 Ingredients
1 cup chopped cooked chicken breast
1/3rd cup finely chopped celery or apple
1 hard-boiled egg, peeled and chopped
2 Tbsp. plain fat-free Greek yogurt
2 Tbsp. light mayonnaise or other light dressing
¼ tsp. salt
¼ tsp. pepper
8 slices of whole wheat bread or 4 pita bread halves
8 large lettuce leaves
 1 medium tomato, thinly sliced
½ small cucumber, thinly sliced
Directions
In a medium bowl, stir together chicken, celery, and egg.
Add yogurt, mayo, salt and pepper, stir to combine.
Top half of bread slices with lettuce leaves. Add tomato slices, cucumber slices, and 1/4th of chicken mixture onto each sandwich. Top with remaining bread slices. Cut in half and serve.
Makes 4 servings.