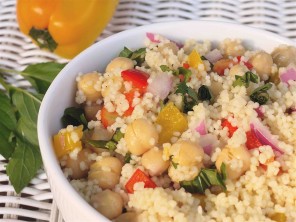 A healthy lunch can be delicious, convenient, low cost, and energizing. Read to find out more!
Benefits of making your own lunch verses eating fast food or carry- in include:
Increased awareness of ingredients in the meal and nutritional information such as calories
Personalized portions
Special requests fulfilled
Money and time savings
Follow these simple steps to pack a balanced satisfying lunch:
Keep what's in your box within your calorie range. On average between 300-450 calories. Look at nutrition facts labels or utilize a calorie tracker app or website.
Include:
2-3oz. lean or low fat protein (such as chicken breast, turkey, canned tuna or salmon, tofu, 1 egg, 6oz. Greek yogurt, ½ cup beans or legumes)
+
1-2 servings complex carbohydrates (such as ½ cup brown rice, whole grain pasta, farro, quinoa or barley; 1 slice whole grain bread, small whole grain tortilla, ½ sweet potato with skin)
+
Plenty of vegetables and/or fruits (any you like or in season)
+
1 serving of a healthy fat (2 Tbsp. nuts or seeds, ¼ avocado, 1 tsp. olive oil, 1oz. cheese)
Pre-prep your lunch for the week or two ahead by taking just an hour of your time. Make a batch of 2 or more different dishes or recipes. Store some in the fridge that you will be using within 4 days and store the rest in the freezer.
Lunch Box Ideas:
Name
Protein
Complex Carb
Veggies/fruits
Added fat
Calories
Lite n' Leafy Salad
½ cup canned beans, rinsed and drained (favorite variety)
½ cup cooked quinoa
2+ cups leafy greens/ 2 Tbsp. dried craisins/ 2 Tbsp. chopped scallions
2 Tbsp. light vinaigrette dressing
= 330(add a 100 calorie yogurt cup) = 430
Directions: Make 4 servings. In medium bowl, mix 2 cups rinsed and drained beans, 2 cups cooked and cooled quinoa, ½ cup dried craisins, ½ cup chopped scallions, ½ cup light vinaigrette dressing. Store in fridge. Each day, in an  individual container, measure 1 cup quinoa/bean mixture on top of 2 cups mixed greens and place in lunch box.
Warm Whole Grain Salad
2oz. tuna or salmon
1/2 cup cooked farro
1 ¼ cup chopped and sautéed kale, broccoli, mushrooms, onions
1 tsp. olive oil, 2 Tbsp. feta, salt and pepper
= 300(add 1 medium fruit) = 370
Directions: Make 4 servings. In medium skillet add 4 tsp. olive oil, sauté 2 cups chopped broccoli, ½ cup chopped mushrooms, ½ cup chopped onion, 2 cups chopped kale until kale just starts to wilt. Season with salt and pepper to taste. In 4 individual containers add ½ cup cooked farro, 1 ¼ cup veggies, 2oz. tuna or salmon, and sprinkle with 2 Tbsp. feta cheese. Refrigerate. Add to lunch box; reheat 1 minute.
Personalized Frozen Burritos
½ cup chopped cooked chicken breast or beans
8 in. whole wheat tortilla
1/3 cup chopped lightly sautéed bell peppers, onions, etc., 1 Tbsp. salsa
2 Tbsp. shredded Mexican cheese blend
= 270(add ½ cup baby carrots + 2 Tbsp. hummus) = 350
Directions: Make 4 servings. In medium skillet lightly sauté 1 ½ cups chopped bell peppers and ½ cup chopped onion.   Season with Mrs. Dash fiesta lime blend. Top 1 tortilla with ½ cup chopped cooked chicken breasts or beans, 1/3 cup veggies, 1 Tbsp. salsa, 2 Tbsp. cheese. Fold burrito and wrap in ceran wrap. Freeze. Add to lunch box and reheat 2 minutes.
Comforting ½ Soup ½ Sandwich
1 ½ Tbsp. peanut butter
1 slice whole grain bread
1 cup low sodium tomato or vegetable soup. Berries or banana slices
(Peanut butter)
= 330(add 1 string cheese) 400
Directions: Spread 1 ½ Tbsp. peanut butter on half of bread slice, top with ¼ sliced banana or 1/3 cup berries, then other ½ of bread slice. Enjoy with 1 cup low sodium canned soup such as Amy's chunky tomato bisque, minestrone, or lentil vegetable.
What will your lunch box hold this week for a healthier you?